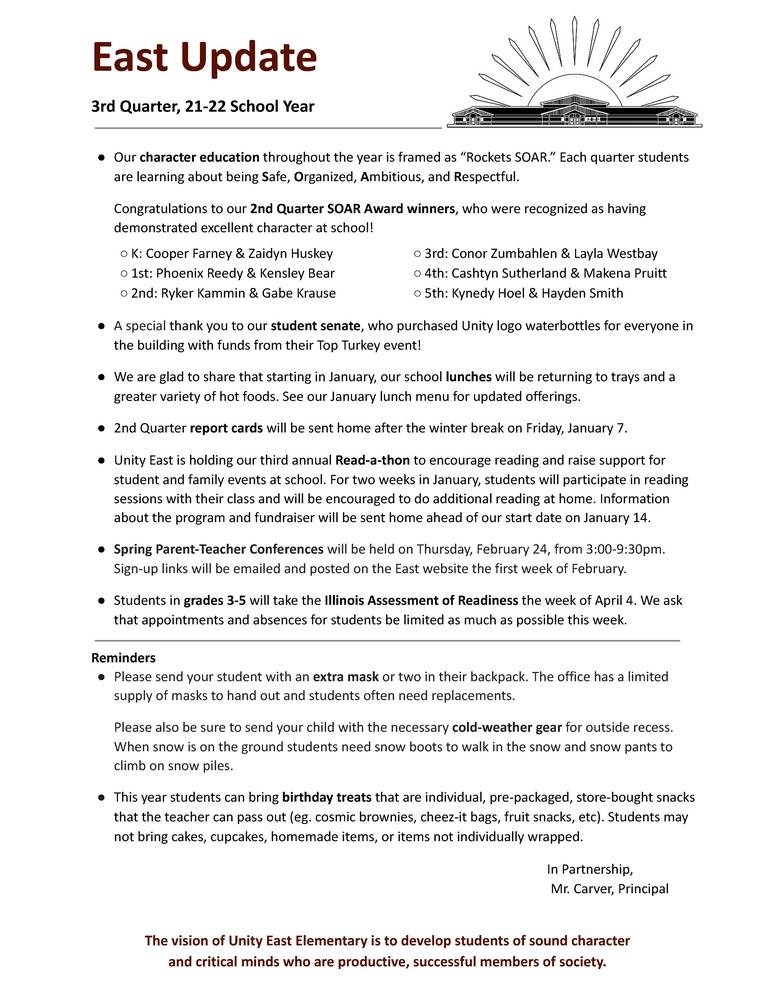 East Update: 3rd Quarter News
J. Carver
Monday, January 03, 2022
View the newsletter and calendar as a .pdf file here
Our character education throughout the year is framed as "Rockets SOAR." Each quarter students are learning about being Safe, Organized, Ambitious, and Respectful. Congratulations to our 2nd Quarter SOAR Award winners, who were recognized as having demonstrated excellent character at school!
K: Cooper Farney & Zaidyn Huskey
1st: Phoenix Reedy & Kensley Bear
2nd: Ryker Kammin & Gabe Krause
3rd: Conor Zumbahlen & Layla Westbay
4th: Cashtyn Sutherland & Makena Pruitt
5th: Kynedy Hoel & Hayden Smith
A special thank you to our student senate, who purchased Unity logo waterbottles for everyone in the building with funds from their Top Turkey event!

We are glad to share that starting in January, our school lunches will be returning to trays and a greater variety of hot foods. See our January lunch menu for updated offerings.

2nd Quarter report cards will be sent home after the winter break on Friday, January 7.

Unity East is holding our third annual Read-a-thon to encourage reading and raise support for student and family events at school. For two weeks in January, students will participate in reading sessions with their class and will be encouraged to do additional reading at home. Information about the program and fundraiser will be sent home ahead of our start date on January 14.

Spring Parent-Teacher Conferences will be held on Thursday, February 24, from 3:00-9:30pm. Sign-up links will be emailed and posted on the East website the first week of February.

Students in grades 3-5 will take the Illinois Assessment of Readiness the week of April 4. We ask that appointments and absences for students be limited as much as possible this week.
Reminders
Please send your student with an extra mask or two in their backpack. The office has a limited supply of masks to hand out and students often need replacements.

Please also be sure to send your child with the necessary cold-weather gear for outside recess. When snow is on the ground students need snow boots to walk in the snow and snow pants to climb on snow piles.
This year students can bring birthday treats that are individual, pre-packaged, store-bought snacks that the teacher can pass out (eg. cosmic brownies, cheez-it bags, fruit snacks, etc). Students may not bring cakes, cupcakes, homemade items, or items not individually wrapped.
In Partnership,
Mr. Carver, Principal